Book launch: Research Methods for Social Workers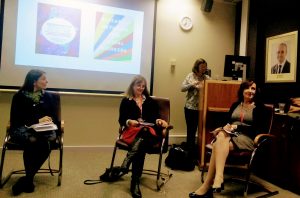 We are very pleased that the book, 'Research Methods for Social Workers', officially launched yesterday at Middlesex University.
The book is written by Dr Linda Bell.
The book launch took place in boardroom at Middlesex University on Tuesday 23 January 2018.
Middlesex University is one of the partner organisations in the North London Social Work Teaching Partnership.
Description
This handy book is a one-stop introduction to research and evaluation for social workers. Including unique project examples, exercises, discussion points and extensive signposting to further reading, and drawing on the author's many years of teaching experience, it is essential reading for students who may be unfamiliar with research methods.
Ideal for students and practitioners at each stage of their development introduces basic concepts and gradually proceeds to equip readers with the skills, knowledge and confidence to undertake independent research
Covers a broad range of research methods?
Written by someone who has experience in teaching research methods to social workers, nurses and other professional students.
Buy the book
You can purchase the book directly from the publisher available both in paperback and Ebook